When I'm working from home, I like to make use of the keyboard and mouse I normally use for my home super computer with my work laptop. Rather than unplug them from one machine to plug into the other, I use Mouse Without Borders.
Mouse Without Borders is awesome. It seamlessly integrates between the machines (with some customization options), allowing me to use both computers at the same time from the same keyboard and mouse, including clipboard and file drag-and-drop. I won't go into details on Mouse Without Borders, suffice to say that it is really rather lovely1.
However, I was having issues when working from home when it would just stop working. Both machines would report everything was fine and it seemed configured properly, yet the mouse would stop at the edge of one screen and no longer move other to the other. It was perplexing and annoying and I had no idea what was going on.
Then it hit me: I was using the work VPN. Mouse Without Borders uses the network to communicate between machines, so I quickly checked the Mouse Without Borders settings on my work laptop. There I discovered that it had switched over to the VPN.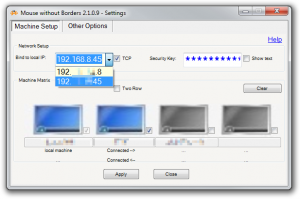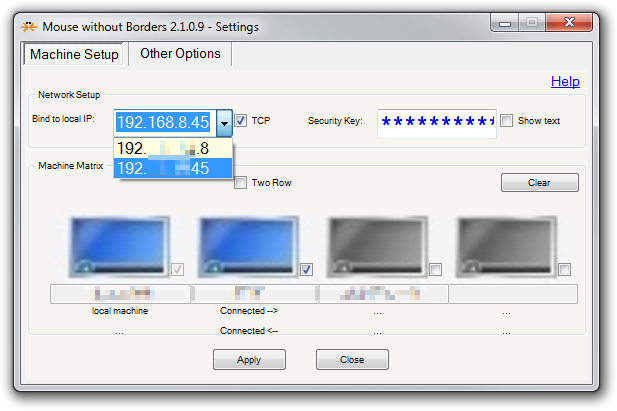 I don't know idea why Mouse Without Borders does this on detecting my VPN IP address, but a quick change in the handy drop down fixes everything. Unfortunately, I appear to have to do this every time I use my VPN, but at least I now know what the heck is going on. Hopefully this will be helpful should you encounter the same issue.
---
Amusing aside, while typing this on my home desktop, the wife brought me a lovely cup of tea and knocked the mouse over to my work laptop, stalling my blogging for a moment. I guess Mouse Without Borders has its downsides. ↩