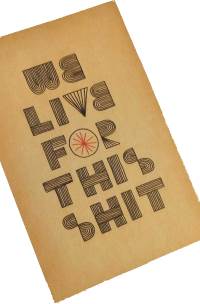 Being grateful—for what others do, for good fortune, for what you have—is good for you. It makes you happier, helps you sleep better, and boosts your immune system. Being grateful is a good way to live and when you thank someone else for what they have done for you, I believe it fosters relationships, builds community, and encourages others to do the same.
I learned about the concepts behind journaling gratitude at my first KalamazooX when Elizabeth Naramore1 discussed her own gratitude journal. Around the same time, a Facebook friend started recording five things a day for which they were grateful. Looking back, this was the period when I started to acknowledge that I had unaddressed problems with depression, anxiety, and self-worth. Being grateful seemed like an easy place to start, so I gave it a try.
At different times, I recorded my gratitude using Facebook, Twitter, a physical journal, and my blog. Eventually, it started feeling stale or false; I was being thankful for inanimate or generic things like coffee, friends, or sunshine. Don't get me wrong, these are all fantastic things, but stating gratitude for coffee felt like my goal had become writing about gratitude than actually feeling grateful.
"…people are not so keen on just handing out personal information like their home address without at least knowing why."
Sometime before a visit to Boston, I had read about a man who set out to send one "thank you" note a day for a year. The idea of writing to people and thanking them directly was appealing. While in Boston, we visited the Isabella Stewart Gardner Museum, and there I bought a box of postcards that I thought would suit this purpose. It took another two years and a move to Texas before I actually got started.
It has now been three weeks since I started; I have sent 20 cards, and have another four ready to go this week. Writing them is cathartic for me and I get a little excited to mail each one. I keep a list of the people I intend to write to and make sure to keep track of those to whom I have already written. Each day, I send one card, write one or two more, and send a message or two over the Internet to get addresses. However, it turns out that some people are not so keen on just handing out personal information like their home address without at least knowing why. This seemed odd to me at first and I felt untrusted. In addition, I felt a deep reluctance to explain why. It seemed I felt the value of this project was lost if the postcard was not a surprise. Of course, that is ridiculous; not only do people have every right to know why I would want their address, but if the surprise of receiving the card itself were the value, what would be the point of writing anything on the card?
So, I write this blog entry, in part, to provide an explanation for people when they ask why I need their address. That said, I also write it as encouragement to others who might be considering the start of their own gratitude project. Being grateful is powerful on its own, yet the responses I have received to messages I have sent have been wonderful, humbling, and kind. People are amazing, so tell them; the more you thank others for their impact on your life, the more you will be surprised by your impact on theirs.
---
IIRC ↩